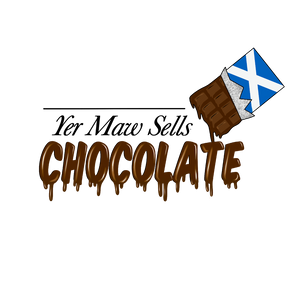 **PLEASE READ ALL INFORMATION BEFORE ORDERING**
ALL CUSTOM ORDER REQUESTS REQUIRE A MINIMUM 4 WEEK TURNAROUND TIME. 

PLEASE ENSURE YOU PLACE YOUR ORDER IN ADVANCE FOR THE DATE IT IS INTENDED.
WE WILL NOT BE HELD RESPONSIBLE IF THE DELIVERY DATE EXCEEDS THE DATE INTENDED IF NOT PLACED WITHIN THE TURNAROUND TIME STATED
Please note there is a maximim 10 letter/number per slab.
(Core Range - Custom) - A customised slab in one of our current Milk based core range flavours without any additional personalised toppings- caramel carnage, awfy orange, mental mint, penny chew, ya nutter, yer takin the biscuit.
(Bespoke - Custom) - A customised Milk Based Slab featuring a combination of flavours and toppings of your choice. 
**Please make sure you include as much detail of flavours and ensure all spelling is correct in the notes section during checkout. There is a maximum 10 letter capacity for each slab in order to leave room for toppings. Each slab will be completed based on the information provided by you at the time of ordering, we cannot be held accountable for any missed toppings/ flavours or spelling mistakes included at the time of ordering. Emails are often missed or overlooked therefore we may not see the updated information prior to the item being made **
As toppings are subject to change please do not order if you have any known food allergies or intolerance's as yer maws chocolates are produced in a kitchen that handles all main allergens including; nuts, wheat, soya, eggs, and gluten. 
Slab approx 700g

All products not suitable (0-3) as some products risk choking hazard
Over consumption may have an adverse effect on the attention and behavior in children
All products are handmade to order, please ensure you are happy with the current turn around time prior to purchase.
 By placing an order you agree to our T&C's