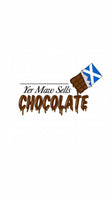 Luxury Belgian Chocolate Meets Glasgow
I'm just a maw that loves chocolate, i mean who disnae? Based in the heart of Glasgow we are a small family run business specialising in luxury hand crafted chocolate. So wither yer lookin to treat yersel or someone special, ye can count oan Yer Maw tae put a smile oan yer face
Get In Aboot It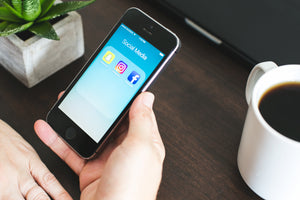 Stay Social
Dae ye follow us oan Instagram? if no.. how no?
Yer Maw just loves tae see her products in yer hooses & at yer special occasions.
So when the postie comes knockin don't forget tae tag us in yer posts & stories.
As a new small family run business we rely oan the support of the schemes & the feedback of oor customers tae make sure Yer Maw 's wee chocolate coated dream becomes a success.
A mean did yer ain Maw no teach ye that sharing is caring when ye wur wee? ofcourse she did.
so LIKE, SHARE, FOLLOW & SUPPORT
Instagram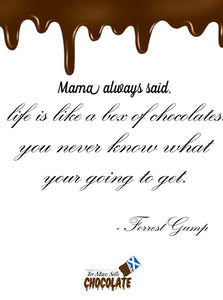 Oor Story
Am sure ye huv heard it aww before, the 'its always been a dream' patter but its true. As a wain I always knew one day that id work fur myself and huv my ain business, I guess ye could say iv always hated being told wit tae dae. So aye, ye could say this has always been a dream but a never woulda guessed the dream wid end up covered in chocolate. 
Iv always loved chocolate, I mean who disnae? its always held that special wee place in ma heart. It disnae talk back, disnae judge yer bad decisions and it helps cure yer fear efter a night oan the sesh. Oan ma road tae adulthood I worked in catering, restaurants, factories, bars.. pretty much everything associated with food/drink and hospitality. 
Then I became a maw.
As a young mum, that role came so easy, its everything I ever wanted but having everything ye ever wanted comes at a price. Im no ashamed tae admit im still struggling mentally, I have terrible anxiety and separation issues, meaning returning tae work was impossible.
So then I thought, wit am I good at? wit am I experienced in? wit dae ye love? que...Yer Maw Sells Chocolate. 
Then Coronavirus happened. Everything I had planned, prepared, studied & practised was put in jeopardy but that's just it, life itself is exactly like a box of chocolates because ye really never know what yer going tae git.
Sometimes ye have tae just dive in and hope fur the best & here we are, a new completely raw, unpolished Glasgow based business, nae bells, nae whistles, nae fancy patter. Im so proud to be Scottish & im so incredibly proud ae what i have achieved. 
We hope ye love it as much as we dae.
love,
Yer Maw 
dont suffer in silence, reach out.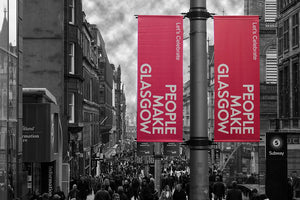 Support Small Businesses
Huv ye ever noticed that aww they wee quirky shops ye used tae visit wae yer Granny oan a Saturday urnae there anymare?
People often overlook small local shops, mibby they git caught up in the hype associated wae aww they big branded institutions. We understand business is a dog eat dog world but try no forget aboot us wee guys oot there, yer local florist, butcher, that online baker, craftsman & aww they wee random yet unbelievably useful diamonds in the rough. So wither shopping local means directly in store or online, in your community or further afield, choosing to shop small is what keeps us wee yins fed n watered, keeps a roof er the torags heeds & keeps yer communitys thriving. 
Taking that leap of faith to open this wee business was so daunting but the people we have met so far have made it all worth it. Already oor orders ur reaching further than Glasgow which is amazing.